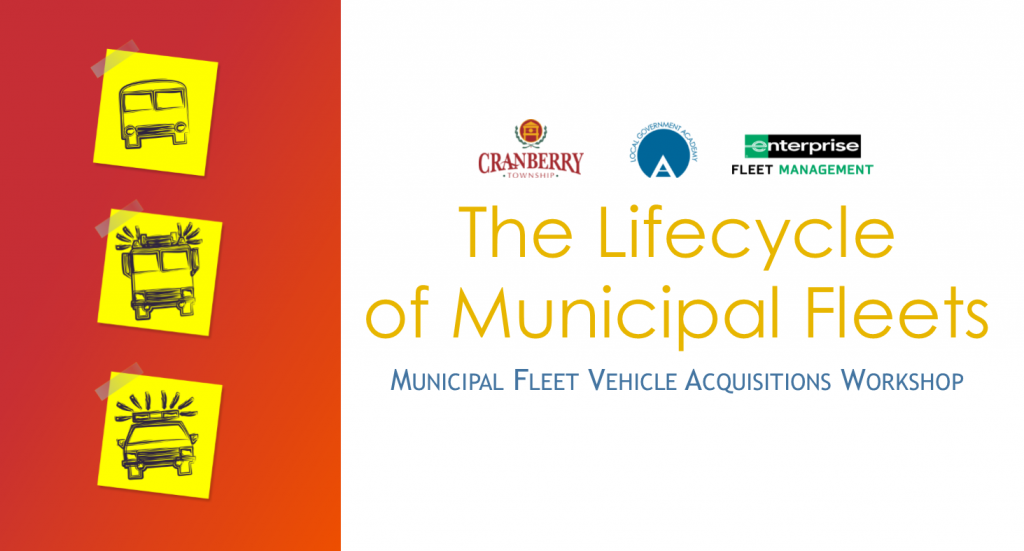 Looking to modernize municipal fleets? Want answers to financing and purchasing options?
Join LGA at the Lifecycle of Municipal Fleets: Acquisition on Tuesday, June 25, 2019, to learn the answers to these questions and more.
The Local Government Academy in partnership with Cranberry Township is pleased to present an educational workshop "The Lifecycle of Municipal Fleets: Acquisition" sponsored by Enterprise Fleet Management. Municipal public works employees, fleet managers, elected officials, and municipal mangers are invited to register for the workshop scheduled for Tuesday, June 25, 2019 at the Cranberry Township Public Safety Training Center, 1000 Maintenance Building Drive, Cranberry Township, PA 16066.
This is the first in a series and will examine options available to municipalities for vehicle acquisition, including Fleet Management & Leasing, Vehicle Purchasing Contract, and Open Bid.
This workshop is designed for municipalities looking for strategic opportunities to modernize their purchasing program. Fleet managers and public works directors will hear about various ways to acquire fleet vehicles and learn the latest trends in technology for both the tracking and preventive maintenance for improved scheduling and fuel accountability. Speakers from diverse perspectives will address vehicle replacement cycles and costs, financing methods, and fleet modernization.
Check-in begins at 9:00 a.m. and the workshop concludes with an optional tour at 1:00 p.m. The cost to attend is $35 and lunch is provided.
__________________________________________________
LGA is proud to offer up to six scholarships available through the Michael P. Lynch Scholarship Fund to offset costs for financially distressed communities to attend this workshop. To determine if your community is eligible for a scholarship, please visit the Resources page on our website and contact jruff@localgovernmentacademy.org  for more information.